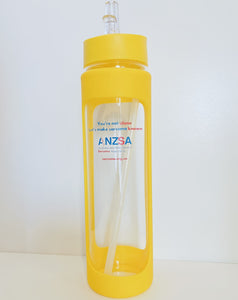 ANZSA Drink Bottle
Be proud to drink from this bottle with the ANZSA logo to show your contribution towards sarcoma awareness and research. 100% of proceeds go towards sarcoma research. Find out how else you can support our work here.
Stylish 600ml borosilicate glass drink bottle which features a protective soft-touch silicone sleeve. It has a secure screw-on lid that has a carry handle and a flip-out drinking valve with a straw.
Borosilicate is a lightweight glass that is exceptionally strong and shatter-resistant. It is a natural BPA-free choice for a clean, pure taste and is a safe alternative to single-use plastics.
Note: It is not intended to be used with carbonated or hot liquids. This product is not dishwasher safe and handwashing is recommended.