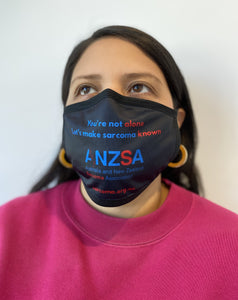 ANZSA Face Mask
Be proud to wear the ANZSA face mask to show your support towards sarcoma awareness and research. 100% of proceeds go towards sarcoma research. Find out how else you can support our work here.
The ANZSA face mask can be reused by hand washing it in warm water. It features a nose wire to provide a more secure, comfortable fit and has matching black ear loops with adjustable silicone toggles to ensure one size will fit most people.
This face mask provides protection with two layers of blended 150gsm cotton/spandex and an additional outer layer of blended 170gsm polyester/spandex. This mask is manufactured for use in the home or for recreational or occupational use.